UF Stamps Scholar Wins Gator Tank Competition
Nagururu and team win $10,000 for their app, Candor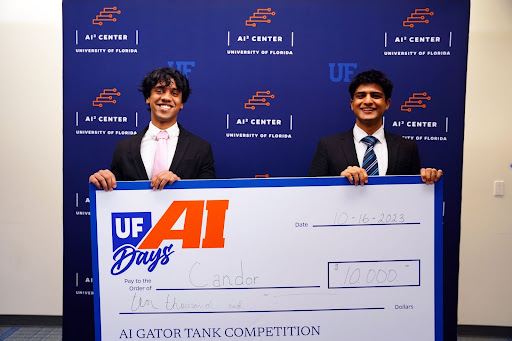 Nishant Nagururu (left) and Akshat Pant (right) with Candor's Gator Tank $10,000 grand prize.
Oct. 16-20, UF hosted its annual AI Days, a series of events including speaker panels about AI in education, career preparation and research, and three student competitions. Two UF students and several Georgia Tech collaborators, including Honors student and Stamps Scholar Nishant Nagururu, took first place and a $10,000 prize in the Gator Tank competition with their app, Candor.
Gator Tank contestants proposed a business venture with a focus on AI. Pitches were judged in a preliminary round and four of those were selected to publicly present their ideas to a panel on Oct. 16. According to the Gator Tank website, faculty and investment professionals judged the projects on factors such as market, economics, operations and technical feasibility.
Nagururu, a 19-year-old computer science sophomore, 20-year-old computer science junior Akshat Pant and four Georgia Tech students built Candor to facilitate direct communication between student government members and constituents. The latter can propose and discuss ideas and concerns and representatives can respond with updates on those issues as they address them through government action. The Candor team believes the app provides an easy way to improve representative-constituent relations and help students become familiar with what their leaders are working on, Nagururu said. The $10,000 award will help the team advance the app's infrastructure, AI features, and marketing, he said.
"Competing in AI Days was surreal … I am unbelievably happy that our work towards the competition and Candor as a whole was recognized," Nagururu said.
---
Written by UF Honors Communications Fellow, Bari Weiner. Learn more about UF's Stamps Scholarship Program here.