UWC Scholar Delves into Robotology, Comedy & "Potterology"
When his home country closed its borders as the pandemic swept the world in 2020, Chadi Rachid (Morocco, UWC Dilijan, University of Florida '24) was in Armenia doing an international-study internship for his UWC.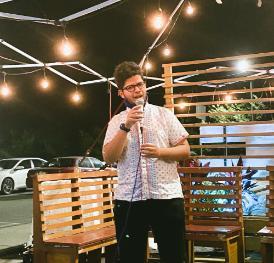 "I lived with some friends in the same situation in a guesthouse," he writes. "I had to learn how to cook, how to manage a budget, in a country where I don't speak the language."
Finally able to return home and then to journey to Gainesville for his first year at the University of Florida, Chadi helped design and build four robots with the university's team in the VEX U college and university robotics competitions.The team reached the semifinals of the VEX Robotics World Championship.
Working on robotics, "I realized I wanted to go into mechanical engineering," Chadi writes. "The application of maths and physics to solve real-life problems is just so appealing. Each season means a new field, a new goal, and new perspectives needed to come up with a creative and effective solution."
In the midst of his first year on campus, Chadi tested positive for COVID-19 and moved into the university's shelter-in-place housing. Now recovered, he's a teaching assistant in the honors course "Potterology, or How to Explain Harry Potter's Magic Using Science." He's also getting ready for another championship title attempt with the robotics team — and he writes and performs his own standup humor at a biweekly comedy show in Gainesville.
"I like humor, I like to laugh and make people laugh," Chadi says. "It's that simple."
This article is taken from Davis UWC Scholars 2022 Annual Report. Click here to view.