University of Florida Announces First Student Named Beinecke Scholar In Fifteen Years
The University of Florida is excited to announce that Honors student Patrick Grey is a 2023 Beinecke Scholar, the first for UF in fifteen years.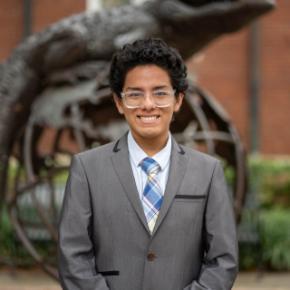 Last week, Mr. Patrick Grey, a third-year Honors student originally from Lima, Peru, received the exciting news that he was selected as a 2023 Beinecke Scholar. This prestigious award allows Patrick to receive $5,000 in transitional funding prior to graduate school and $30,000 while attending his chosen graduate school. The Beinecke Scholarship seeks to encourage and enable highly motivated students to pursue opportunities and be courageous in the selection of a graduate course of study in the fine arts, humanities, or social sciences. The University of Florida can only nominate one student per year for the award, and Patrick was selected to represent UF in the national scholarship competition for 2023. Out of a pool of 87 institutional nominees, Patrick was ultimately named one of twenty Beinecke Scholars. According to Dr. Matthew Loar, Director of The Beinecke Scholarship, award records indicate Patrick to be only the fourth Beinecke Scholar in UF history and the first in fifteen years, with the most recent in 2008.
Patrick is currently majoring in History and Spanish while pursuing a minor in Latin American Studies. He plans to use the award's funding to pursue a PhD in History focusing on the African Diaspora, likely at a Boston-based university. Patrick says that "[w]inning…has put me in a better financial position not only to apply to graduate school but also to be able to afford the living expenses that go along with it." While a doctoral student, he hopes to hold research fellowships conducting oral histories with organizations like the Center for Anti-Racist Research or the Hutchins Center for African and African American Research. In the long term, Patrick aspires to work in academia running an oral history program where he can be a mentor for undergraduate students and inspire them to pursue their scholarly endeavours outside of the classroom. As a UF undergraduate, Patrick has done just that by getting involved with research projects at the Matheson History Museum, a Spanish Linguistics lab, the Center for African Studies, and the Samuel Proctor Oral History Program.
"Mentorship at all levels is crucial for students to identify what drives them and find pathways to turn their passion into a profession," states Dr. Barbara Mennel, the Director for the Center for Humanities and the Public Sphere and a member of UF's nominating committee for The Beinecke Scholarship. Patrick credits many UF resources and units with helping him find his professional path, but he especially names his mentors in the UF Department of History–Drs. Philip Janzen, Paul Ortiz, and Betty Smocovitis–as influential. Patrick states that these three particular faculty mentors "consistently believed in me and encouraged me to achieve my goals and allowed me to envision a future in graduate school."
In congratulating Patrick, Dr. Ortiz noted that "mentorship is vital'' for UF's "so many talented students in the Humanities". Dr. Ortiz says "I honestly believe I have learned as much from Patrick as he has learned from me. After 20 years of being a university professor, Patrick's enthusiasm for research and education renews my faith in the scholarly enterprise."
Dr. Ortiz went on to describe Patrick as someone "highly admired by his peers…always willing to join study groups, to assist fellow students with research projects." When asked what advice Patrick would provide his peers considering application to the Beinecke Scholarship, he suggested making sure that students know and focus on their 'why'. "Applying for a competitive award like Beinecke requires a lot of time and effort, so understanding and focusing on your purpose is essential to reach the finish line… Trust in your vision."
Students and faculty interested in learning more about The Beinecke Scholarship and UF's endorsement process for the award should contact UF's Prestigious Awards Advisor, Kelly J. Medley, at kmedley@honors.ufl.edu.