UF Continues Goldwater Streak With 2022 Scholar
The University of Florida Honors Program is thrilled to announce that Emily Pallack has been named a recipient of the 2022 Goldwater Scholarship.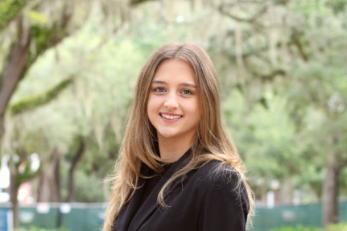 A highly competitive award, the Goldwater Scholarship is for students working toward a research-focused career in natural sciences, engineering, and mathematics. Pallack is among the 2022 Goldwater Scholars selected from a pool of 1,242 undergraduates nominated by 433 institutions across the country.
"Being named a Goldwater Scholar is one of the most impressive recognitions an undergraduate in STEM can earn", says Honors Program Director, Dr. Mark Law. Honors is proud of Emily Pallack and her work on using stem cells to help repair spinal injuries."
Pallack plans to utilize Goldwater to bridge basic science and engineering and conduct tissue development research. "I aim to harness the efficiency of biology and integrate it into biomaterials using stem cells to make functional vascularized tissues," she says. "Accordingly, my main career goal is to contribute to the advancement of synthetic tissue development for eventual implantation."
Pallack touts a productive research record to date, especially for a third year undergraduate. She has given presentations at regional and national conferences and was published as a co-author last year in the Annals of Biomedical Engineering, an international, peer-reviewed journal in her field.
Pallack has been conducting research projects at UF ever since she was a high school student. Dr. Christine Schmidt first met Pallack at a conference in 2016 when she was only a high school sophomore. The two stayed in touch and Dr. Schmidt was eager to have her join her research group when Emily started as an undergraduate at UF in 2019. Dr. Schmidt oversees Emily's current research and refers to Emily as a self-starter who is detailed and attentive in her work, excelling beyond the established high expectations that Dr. Schmidt has for undergraduates in the research lab.
"I'm truly honored and excited to be recognized for my potential in research.", Pallack says." I really owe it all to my wonderful, intelligent, strong women mentors who have taught me everything and push me to keep learning!"
Following graduation, Pallack plans to pursue a Ph.D. in Tissue Engineering and Regenerative Medicine.
The University of Florida has a long history of success with the Goldwater Scholarship. UF has had a Goldwater Scholar or Honorable Mention every year since at least 2003, when records started being kept.
Students interested in applying for the Goldwater Scholarship should contact Kelly J. Medley at kmedley@honors.ufl.edu.