Global Together: #UF26 Welcomes 35 Honors Scholars
The Honors Program at the University of Florida welcomes a distinguished community of 35 Honors Scholars from the incoming Class of 2026. Honors Scholars include recipients of the John V. Lombardi Scholarship, Stamps Scholarship, and Davis United World College Scholar program.
Lombardi Scholarship and Stamps Scholarship
The Lombardi Scholarship and Stamps Scholarship are premier undergraduate awards that fully fund four summers of enrichment experiences, including three international programs and a weeklong domestic leadership expedition. The summer of 2022 will take Scholars to the Yucatán Peninsula for five weeks to study the ecology of tropical Mexico and Maya culture with the UF in Mérida study abroad program.
"It is a pleasure to welcome this remarkable group of students into the Honors Program," says Honors Associate Director Regan Garner, who coordinates the internal scholarships. "Honors Scholars come to UF seeking academic rigor, rich experiences, and limitless opportunity. I am confident our program and the broader campus community will support them with the resources they need to thrive."
These scholarship programs bring together students from different backgrounds with a variety of academic and extracurricular interests, motivated by the opportunity to better their communities and pursue their goals together over the next four years. With the help of an academic advisor, each plans how to best engage in opportunities that UF provides for research, travel, and experiential learning, and receives a stipend of $2700 each fall and spring for eight semesters or until the student earns an undergraduate degree.
Each student has achieved numerous personal and academic accomplishments and demonstrates meaningful engagement with their home communities. Below, learn what uncommon experiences our new scholars are most looking forward to participating in at UF.
Lombardi Scholars
The John V. Lombardi Scholarship was established in 2002 to honor Dr. Lombardi, a former UF president whose leadership and spirit played a significant role in the University's ascension to the top tier of public research universities. This is the twentieth class of Lombardi Scholars in the program's history at UF.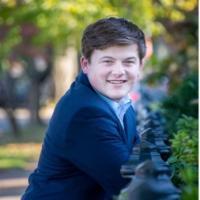 Andrew Dixon, Lincoln County High School – Fayetteville, TN
Major: Finance
Heavener School of Business
"I am most excited about being surrounded by a community of students that all build each other up and support one another in our own endeavors. Finding my people and making memories that will last forever are two of my main goals while at UF."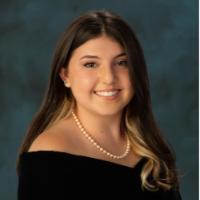 Sarah Goldberg, American Heritage School - Plantation, FL
Major: Public Health
Public Health and Health Professions
"One of my priorities when choosing a university was access to study abroad opportunities. This scholarship will allow me to do it with people who care about learning just as much as I do."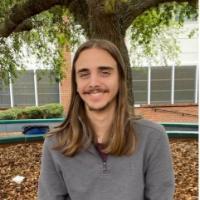 Paul Grau, Jr., Flagler Palm Coast High School – Palm Coast, FL
Major: Computer Science
Herbert Wertheim College of Engineering
Undergraduate Research Scholars Program
"I hope to combine what I learn through The Herbert Wertheim College of Engineering's Computer Science program with my own musical experience to discover new ways to digitally produce and manipulate sound. Outside of that, I'm also passionate about open-source software and plan to contribute back to the body of work that inspired me to pursue Computer Science in the first place. Hopefully, the research that I do through the URSP can help to achieve that goal."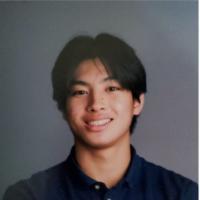 Vincent Lam, Olympic Heights Community High School – Boca Raton, FL

Major: Mechanical Engineering
Herbert Wertheim College of Engineering

"I intend to participate in the research of educational systems and methods in order to utilize education as a means to combat the inequality of opportunity for the impoverished and underprivileged. My passion for optimization in engineering translates to my aspiration of making quality education more feasible and accessible to those less privileged."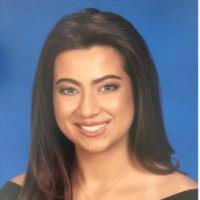 Natalia Lopez, Gulliver Preparatory School – Pinecrest, FL

Major: Political Science
College of Liberal Arts and Sciences

"I thrive outside of my comfort zone when it comes to my education. Being a part of both the UF Honors Program and the John V. Lombardi Program gives me the opportunity to engage in academically rigorous courses, while being surrounded by other highly motivated students who will push me to strive for more and maximize my education. The "small school" feel at such a large institution offers me experiences that will allow me to develop skills to distinguish myself in the professional world."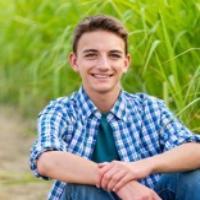 Owen McCool, Edmond Memorial High School – Edmond, OK

Major: Wildlife Ecology and Conservation
Agricultural and Life Sciences

"I plan to conduct research in the field of wildlife ecology and conservation. I am passionate about herpetology and have a specific interest in protecting species affected by human development. I enjoy being outside and am eager to participate in field work in the UF in Merida study abroad program."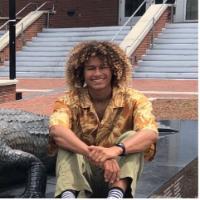 Jaïm Steele, MAST Academy – Miami, FL

Major: Exploring Social and Behavioral Sciences

Liberal Arts and Sciences

"The community of people was one of the biggest draws for this scholarship program. When I was interviewing for the John V. Lombardi Scholarship, I found a community of some of the most humble, intelligent, and all-around fascinating people I have ever met. The prospect of living and learning with those same people, and people like them is so exciting it is hard to put into words"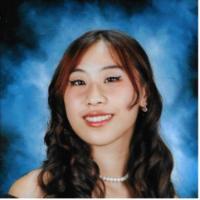 Primrose Tanachaiwiwat , Boca Raton Community High School – Boca Raton, FL

Major: Biology
Liberal Arts and Sciences
Undergraduate Research Scholars Program

"I love to paint and am excited to continue my artistic endeavors at UF. Working on my portfolio this year for AP Drawing has shown me how clarifying and cathartic artistic expression can be."
The University of Florida partners with the Stamps Scholars Program to award multi-year scholarships to driven and talented student leaders. Stamps Scholars join a community of students and alumni from around the world with whom they network and share experiences. This is the eleventh class of Stamps Scholars in the program's history at UF.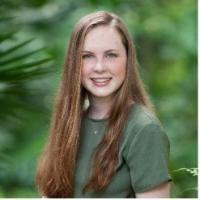 Kate Bass, Vanguard High School – Ocala, FL

Major: Biology
College of Liberal Arts and Sciences
Undergraduate Research Scholars Program

"The tight-knit community is the most appealing aspect of the UF Stamps Scholars Program. I will have a group of diverse and interesting individuals, each pursuing their own goals, as a close group of colleagues and friends to take on the world with. I am absolutely thrilled to meet and work with all of the other scholars and faculty at UF!"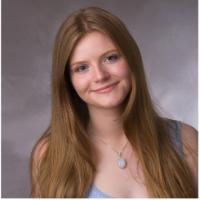 Iona Brooks, Lake Mary Preparatory School – Lake Mary, FL

Major: Business Administration-General Studies
Heavener School of Business

"I really wanted a smaller community within such a large school, as well as access to more opportunities to challenge myself and go outside of my comfort zone. The UF Stamps Scholars Program exemplifies so many of my key values and goals, such as being able to expand my horizons via travel and the opportunity to engage with people of diverse perspectives, views, and experiences."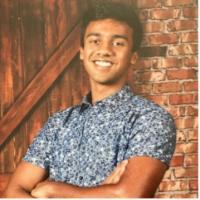 Nishant Nagururu, Strawberry Crest High School - Dover, FL

Major: Computer Science
Herbert Wertheim College of Engineering

"An activity that I currently pursue is FTC Robotics. This activity is significant for me because it exposed me to engineering and developed my love for computer science. I will definitely continue robotics in some manner at UF because I love how I can apply my ingenuity and problem-solving in programming to effect real changes in my environment through robotics. I also really enjoy teaching kids about robotics because it truly changed my life and it's thrilling to potentially open doors for others."
Davis UWC Scholars
Davis United World College (UWC) Scholars are an integral part of the UF Honors community. UF is one of 99 universities and colleges in the United States to which these scholars matriculate after graduation from a UWC international school, bringing students from around the world to live and learn with U.S. students.
"International students make important contributions to the University of Florida community, from a richness of perspectives to diverse cultural traditions that benefit all of us," says University of Florida President W. Kent Fuchs. "The Davis United World College Scholars are critical to these contributions and thus to the education, research and service that are at the core of our mission."
The Class of 2026 boasts 24 Scholars from 15 countries on 4 continents: North America, Africa, Asia and Europe, from 13 UWC campuses around the world.
The Davis UWC cohort, along with the Lombardi Scholars and Stamps Scholars, will bring together growing global perspectives to continue to advance, succeed and excel in their roles as student-leaders and lifelong changemakers.