Honors Student Wins Prestigious Goldwater Scholarship
The University of Florida Honors Program is thrilled to announce that Muhammad Abdulla '22 has been named a recipient of the 2021 Goldwater Scholarship.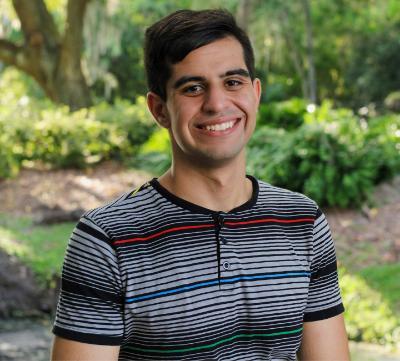 A highly competitive award, the Goldwater Scholarship is for students working toward a research-focused career in mathematics, natural sciences and engineering. Abdulla is one of just 475 students nationwide awarded scholarships for the 2021 competition. Winners were selected from a pool of 1,256 undergraduates nominated by 438 institutions across the country.
Abdulla, mathematics major in the UF College of Liberal Arts and Sciences pursuing an electrical engineering minor, is a scholar in both the UF Honors Program and the University Research Scholars Program (URSP). Informed by past and current research at the Florida Institute of Technology, University of Pittsburgh and University of Florida, Abdulla will utilize Goldwater to conduct research that approaches problems in interdisciplinary fields, particularly neuroscience, with a mathematical perspective. "I hope to use techniques such as mathematical modeling, optimization and computation to characterize how the brain carries out fundamental functions," he says. "This offers immediate implications in the biomedical sciences and a new framework for the development of powerful technologies like artificial intelligence."
Abdulla's commitment to research and greater change not only reflects his character and influence as a scholar, but also what it means to be an Honors student at the University of Florida. "After a year that was exceptionally challenging on a global scale—and continues to be so—Muhammad's win speaks to our students' extraordinary caliber, resilience and grit," says Honors Program Director Dr. Mark Law. "His commitment to pursue leadership in the natural sciences through Goldwater not only exemplifies Honors values, but will make meaningful, lasting impacts on society for years to come."
This task of making change, however, is not confined to a research lab. Aside from an investment in our collective future, the Goldwater Scholarship requires students invest in something much more personal: themselves. Kelly J. Medley, UF's external scholarship & fellowship coordinator, works firsthand with students like Abdulla to support them through a rigorous application process involving reflection and focused professional development. "Applying for a highly prestigious award such as the Goldwater is a significant commitment. It takes a lot of time and deep reflection on the part of the student," affirms Medley. "They really have to address why they had X leadership role or participated in Y research project, and, more challenging, they have to connect it to their long-term goals."
Abdulla rose to the challenge, with a clear vision for his academic aspirations. "Advancing the collective knowledge of humanity is one of the most important and worthwhile endeavors anybody can undertake," he says. "To me, being named a Goldwater Scholar is an inspiration to keep chasing the passion I feel for mathematics and its applications to developing a better understanding of the world around us."
Following graduation from UF, Abdulla plans to pursue a Ph.D. in Applied Mathematics.
UF has a long history of success with the Goldwater Scholarship. The past decade alone has yielded an award each year, a true testament to the strengths of UF undergraduates as serious STEM researchers.
Students interested in applying for the Goldwater Scholarship should contact Medley at kmedley@honors.ufl.edu.