Honors Student Named UF's Second-Ever Schwarzman Scholar
Matt Barocas will study for a Master's degree in Global Affairs at Schwarzman College at Tsinghua University in China.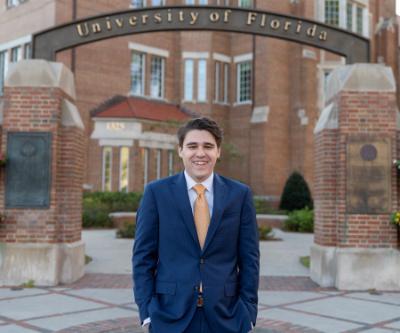 The University of Florida Honors Program is thrilled to announce that R. Matthew Barocas '21 is named the second-ever Schwarzman Scholar from the University of Florida. A history and political science double major in the College of Liberal Arts and Sciences, Barocas is one of the 4% of applicants admitted into the prestigious program's Class of 2022.
The award will position Barocas for a career as a Foreign Service Officer, promoting international peace and prosperity on behalf of American citizens—a commitment he anticipates as both rewarding and challenging. "Public service intrigues me precisely because of the many challenges and conflicts in international relations right now," says Barocas. "It may be difficult, but it will always be interesting."
The Schwarzman Scholarship, known as the "Rhodes of China," was created in 2016 by The Blackstone Group CEO Steve Schwarzman on the foundation that understanding China's role in global trends is a requirement for the success of future leaders. Says Schwarzman, "[The program] isn't just about what you learn – it's about becoming a leader and forming global relationships that can be activated over a lifetime."
"It may be difficult, but it will always be interesting."
Schwarzman fully funds a one-year, residential Master's degree in Global Affairs at Schwarzman College at Tsinghua University in China. The program is centered around connecting students at the top levels of their professional sector through a rigorous global affairs curriculum, hands-on experience with the Chinese market and the country's culture, and transformative advising opportunities.
The on-site learning opportunity is essential for greater understanding of the countries' connections and the impact of a leadership network. "The U.S. and China will be the defining international relationship of our lifetimes," Barocas explains. "Whether this relationship becomes a contentious rivalry or a source of cooperation will greatly impact our lives."
Barocas's four years at UF—including study abroad, a high level of involvement as a Reitz Scholar, and an active role in UF Student Government and the College Democrats—were pivotal in preparing him for future global engagements. "Matt is dedicated to improving UF for all Gators. Through Schwarzman, this dedication will be carried over to a larger community," says Honors Program Director Dr. Mark Law. "Students have weathered exceptional storms in the last year. The adaptability, compassion and leadership with which students like Matt have responded will make a difference for our future."
This win is the result of determination and commitment from Barocas, as well as the network of support available on campus. "It showcases the successes of Matt, but it also signals the strength of a UF education, what happens when students take advantage of opportunities for campus leadership, and the wealth of possibilities that exist for students willing to take on a somewhat intimidating application and interview process," says Kelly J. Medley, External Scholarship & Fellowship Coordinator at the University of Florida.
Students interested in the Schwartzman Scholarship should contact Medley at kmedley@honors.ufl.edu.