Goldwater Scholars 2019
Congratulations to Our Two Goldwater Winners!
The University of Florida Honors Program is pleased to announce that two of our students, Hannah Lyons and William Owens, have been selected as recipients for the Goldwater Scholarship. The Barry Goldwater Scholarship and Excellence in Education Foundation awards scholarships to college sophomores and juniors who are committed to pursuing research careers in the natural sciences, mathematics, or engineering; additionally, these students must demonstrate notable ability and the potential to make significant contributions in one of these fields.
---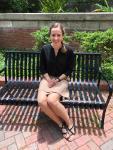 Ms. Hannah Lyons is a third-year student from Cocoa Beach, Florida. She studies History and Microbiology and Cell Sciences and is minoring in French and Francophone Studies. For the last two years, Hannah has worked at the Florida Space Institute (FSI) where she assists scientists developing proposals for studies on in-situ resource utilization, human operations in harsh conditions, and space radiation effects on the central nervous system under the guidance of her research mentor Dr. Esther Beltran. She also participates in research at the UF McKnight Brain Institute, investigating mechanisms of drug addiction and withdrawal in rat models in Dr. Adriaan Bruijnzeel's lab. Hannah hopes to pursue a career in space life sciences, working at NASA as a physician-scientist to develop experiments that improve astronaut health and clinical practice on Earth.
---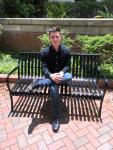 Mr. William Owens, a third-year student from Tallahassee, Florida, is a Microbiology and Computer Science double major who explores the intersections between the two fields and conducts research in Dr. Michael Kladde's lab analyzing epigenetic data using UF's supercomputer. As a part of 2018's iGEM Team UFlorida, Will and his teammates sought to engineer a therapeutic gut probiotic for an international synthetic biology competition. In his future endeavors, Will plans to pursue a Ph.D. in bioengineering and explore new ways to program cells and solve humanity's problems.