Goldwater Scholars 2020
UF Honors Produces 2 Winners for the Prestigious Goldwater Scholarship
About Goldwater
The University of Florida Honors Program connects, nurtures and engages the next generation of scholars who change the world. Among these scholars are our 2020 recipients of the prestigious Goldwater Scholarship: Honors students Keshav Motwani and Estelle in 't Zandt.
The Goldwater Scholarship is a highly competitive scholarship awarded to students working toward a research-focused career in mathematics, natural sciences and engineering. Motwani and in 't Zandt are two of just 396 students nationwide awarded scholarships for the 2020 competition. Winners were selected from a pool of 1,343 undergraduates nominated by 461 institutions across the country.
Our Scholars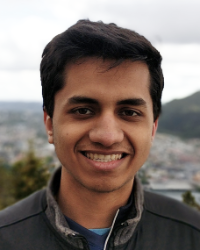 Keshav Motwani
Keshav Motwani, of Gainesville, FL, is a second-year Honors student majoring in Statistics.
"I am extremely honored to be selected for this recognition amidst all of the groundbreaking undergraduate research going on. The motivation it has given me will help to push through the ups and downs of the research process," says Motwani. "For me, winning the Goldwater ultimately showcases what my hard work combined with fabulous guidance and support from my mentors can result in."
His research, guided by Dr. Todd M. Brusko, consists of applying and developing methods in the areas of computational immunology, statistics and machine learning to analyze and interpret the complexity of immune-related diseases. Current projects focus on identifying T-cell biomarkers for prediction of disease status and response to therapeutic interventions.
"The Goldwater Scholarship offers a unique opportunity for Keshav to interact with a diverse, interdisciplinary​ set of peers and mentors to enrich and expand his opportunities in science," says Dr. Brusko. "These unique interactions with other bright and creative people will spark creativity in Keshav and help mold his development at the leading edge of discovery and science."
Motwani plans to attain Ph.D. in Machine Learning and lead a collaborative research group that focuses on applications of machine learning in immunogenomics to investigate immune cells in disease at the single-cell level.
---
Estelle in 't Zandt
Estelle in 't Zandt, of Hollywood, FL, is a third-year Honors student studying Microbiology & Cell Science and Psychology. "I feel really honored to be included in a group of such driven, intelligent people," she says of her win. "It makes me really grateful for the mentors in my lab and how much they have helped me on my path towards a career in science." in 't Zandt researches the neural processing of sensory information in the context of behavior, with recent publications and projects focused on the olfactory bulb, under the guidance of Dr. Daniel W. Wesson.
"I hope Estelle will refine the scientific spirit inside herself – and that is to try her best to make a new discovery which stands the test of time, while also having the courage to be wrong," says Dr. Wesson of his hopes for Estelle's Goldwater experience. Dr. Hillary Cansler, another mentor and colleague of in 't Zandt, notes "Estelle's achievement highlights the top-notch research environment UF has fostered at all levels, which allows bright and capable students like Estelle to discover and nurture their scientific interests and reach their true potential."
in 't Zandt aspires to attain a Ph.D. in Neuroscience and conduct academic research investigating the neurobiology of the brain's behavioral functions.
---
How to Apply
Would you like to become a Goldwater Scholar? If you're a high-achieving student involved in research, please contact Kelly J. Medley, External Scholarship & Fellowship Coordinator, at kmedley@honors.ufl.edu.