2019 Medallion Ceremony
120 UF Students Become Honors Alumni
On Friday, May 3rd, the Honors Program was proud to welcome 120 students as new Honors alumni at the Medallion Ceremony, an annual event celebrating the passion, promise, and pursuit of excellence among its graduates. The 120 students honored in this ceremony were those who completed the University Honors Program and will be considered Honors Alumni. They were awarded an Honors medallion and their upcoming plans and prior achievements were shared with the audience.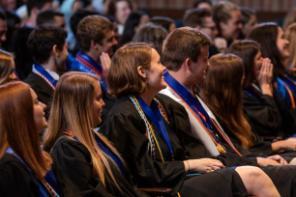 Many of these plans include accepting positions at top financial, consulting, engineering, and media companies and in fields such as public health, non-profit organizations, government, education, and STEM research. A significant number of them will continue their education in graduate programs, medical, law, and pharmacy schools at various preeminent universities.
The student keynote speaker, Brian Spivak, shared the significant difference the program has made in his UF experience, particularly the support of his Honors advisor, Kristy Spear. Five students--Emma-Louise Austin-Datta, Kathryn Clark, Anne Crowell, Megan Jones, and Meryl Kornfield--were inducted into the Honors Hall of Fame, a distinction reserved for graduating seniors who have exemplified the values of the Honors Program through their scholarly activities, leadership, and service while at the University of Florida.
Dr. Clay Calvert, the faculty keynote speaker, offered advice to the graduates that was refreshingly infused with bits of humor and an impressive impromptu rendering of the introduction to Law & Order. Drawing on how rich conversation develops organically among students from various disciplines when in Honors classrooms, he reminds students of the power of applying this larger lesson as they go forward:
Get a group of smart people–ones with very different interests–in the same room together and get them to know and talk with each other and then, presto, magical things can happen...you'll be able to share ideas and thoughts that collectively can propel you forward as an organization or on an individual level, can help you to see a different perspective.
To see more photos from the ceremony, please visit our UF Honors Facebook album: 2019 Medallion Ceremony Album